We are the only Mobile Bike Repair Shop in the Coastal Carolina area! No more long drives to the bike shop. We can come to you and depending on the level of repair, we can either fix your bike on the spot or we can take it back to our shop for repair and drop it back to you. Easy peasy! You can also drop-off your bike at our location in Topsail Island.
We offer most bike repair services for all traditional bikes and limited service for electric bikes. Please contact us for a free estimate.
We also can order most parts and accessories and have them available to you in a day or two if we don't already have it in stock.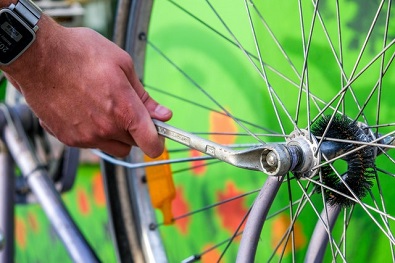 Our knowledgable staff will be happy to help with any questions or concerns you may have about your bike, from mantenance to repair. We are here to help keep your ride in optimal condition.
Includes:
Brake Adjustment
Derailleur Adjustment
Derailleur Hanger Alignment
Hub Bearing Adjustment
Headset Adjustment
Bottom Bracket Adjustment
Lube Chain
Includes:
Light Wheel True
Brake Adjustment
Derailleur Adjustment
Derailleur Hanger Alignment
Hub Bearing Adjustment
Headset Adjustment
Bottom Bracket Adjustment
Lube Chain
Drive Train Clean
Bike Wash
Includes:
Full Wheel True
Brake Adjustment
Derailleur Adjustment
Derailleur Hanger Alignment
Hub Bearing Adjustment
Headset Adjustment
Bottom Bracket Adjustment
Lube Chain
Drive Train Clean
Bike Wash
Bottom Bracket Service
Brake Pad Install
Chain Install
Headset Service
Bar Tape/Grip Install
New Cables/ New Housing