Electric Bike Rentals in Topsail Island
Electric Bike Rentals in Topsail Island at your fingertips; just a phone call or click away. We offer delivery and pick-up service (free locally or $10 for out-of-range area in North Topsail). Enjoy the best way to explore and get around the island while you skip traffic, save parking fees and feel the breeze on your face as your ride effortlessly.  With  "pedal assist" or "throttle assist" mode, choose the power level on your ride
| | |
| --- | --- |
| Up to 2 Hours | $30 |
| Half-Day (4 hrs) | $50 |
| Full-Day (24 hrs) | $70 |
| Extra Day | $45 |
| Full Week (7th day free)  | $270 |
Helmet (optional for 16 yrs old and over; required for younger)
Bike Lock and Handlebar Bag
Free Local Delivery and Pickup (small fee for out-of range areas)
'Once you get on an e-bike, it will be hard to go back to a traditional bike…" confirmed, by our customers!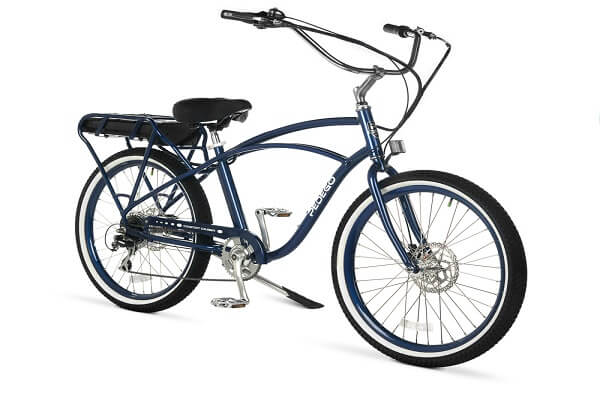 E-Bike Rental FAQ:
Is there an age limit to ride e-bikes? Yes, there is. Riders must be 16 years old or older. Riders younger than 18 years old must ride with an adult
Are e-bikes allowed to be ridden on the beach? No, they are not. Sand can reach areas of the bike which can cause it break. Certain cities ban e-bikes on the beach
Can a kid's bike trailer be attached to your e-bike? Yes, it can.  We can only guarantee this with out kid's trailers, which are also available for rental
Do you deliver? Yes, we do. Free delivery is available locally while out-of-range areas require a $10 delivery fee. Check your address in relation ot our location as you might closer to us than you think
Can I rent online or can I just walk-in? Walk-ins and call-ins are welcome, while our website works 24/7; feel free to

reserve online

or call us at 910.928-8008
Key Facts About

Pedego

Electric Bikes

:
How fast?
All Pedego Electric Bikes are governed at 20 MPH in accordance with federal and state regulations
How Far?
Range varies between 15-60 mi. Depending on the battery, rider weight, terrain, weather, speed, and level of pedaling
How long to charge?
The battery takes 2-6 hours to charge from a standard wall outlet. Your pedaling conserves the battery, but doesn't charge it.
What about exercise?
Pedego owners actually get more exercise because it's so much fun than that they ride more than they ever would on a pedal-only bike.
Is there an age limit?
Riders must be 16 years old or older to ride an e-bike (North Carolina state law)
We have chosen Pedego e-bikes, as this company has been around for many years and their bikes have been proven high quality, reliable and durable. Pedego offers an excellent customer service, both before and after sales. Their knowledgeable staff is happy to help with the technical support. See their full line of bike here
Interested in purchasing an Electric Bike?
We can help! We welcome you to contact us with any questions, or visit our store to test ride any of our bikes.Or better yet, to get the full experience, book a rental with us. We can also deliver your electric bike rental in Topsail Island.
See the Element fat tire E-bike in action on video below!